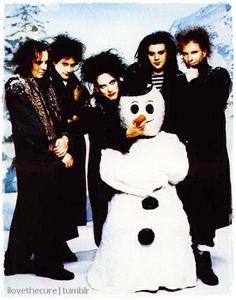 Ho ho ho! It's a very gothy Christmas at Parallax Views and we're celebrating the holidays in spooky-style with not one but two guests known for their work in the horror genre. So crack out the eggnog, cobwebs, and gingerdead men because the slay bells are ringing at Parallax Views!
First up, filmmaker David Ian McKendry joins us to discuss holiday horror movies and All the Creatures Were Stirring, a new yuletide horror anthology directed by David and his wife Rebekah McKendry that stars Crazy Rich Asian's Constance Wu and House of the Devil's Jocelin Donahue among others. If you're looking for an unconventional way to cinematically celebrate the holidays this year look no further than All the Creatures Were Stirring. It's a collection of seasonal terror tales that turns such mundane horrors as last minute, holiday office parties, and awkward Christmas dinners into the stuff nightmares are made of! All the Creatures Were Stirring is cult classic in the making that'll be required viewing for horror aficionados during the holiday season.
David Ian McKendry
Constance Wu and Morgan Peter Brown in All the Creatures Were Stirring
Jonathan Kite in All the Creatures Were Stirring
Jocelin Donahue in All the Creatures Were Stirring
Check out All the Creatures Were Stirring, streaming now on Shudder, YouTube, Amazon Prime, Google Play, and Vudu
And be sure to listen to David's podcast, Fear Initiative
As well as Rebekah McKendry's podcast, Shock Waves
Then, in the second half of the show, Parallax Views is joined by the legendary British horror author Ramsey Campbell, the mind behind such nightmarish masterpieces as The Inhabitant of the Lake and Less Welcome Tenants, The Nameless, Demons by Daylight, Alone with the Horrors, The Last Revelation of Gla'aki, and many other goosebumps-inducing classics.
Ramsey Campbell
The conversation takes a turn into Christmas territory right off the bat as Ramsey explain how a holiday-themed children's tale served as a key inspiration for his explorations of supernatural horror and the uncanny. Moreover Ramsey also discusses how M.R. James, whose strange ghost stories have become a staple of the Christmas season in Britain, has served as a chief influence on his work.
From there it's off to the races as we discuss Ramsey's early work going back to Ghostly Tales, which Ramsey wrote at the tender age of 11 years old. We then delve into how H.P. Lovecraft's cosmic horror stories were a pivotal discovery for Ramsey in his youth, Lovecraft's use of psychological realism, how that has influenced his own writings, and the encouragement he received from various parties to pursue his passion for writing in those formative years.
We then move into discussing how Ramsey went from writing Lovecraftian pastiches during his early years to finding his own unique voice. This opens us up for a discussion about the how literature not traditionally considered part of the horror genre has impacted Ramsey's writing. In this regard Ramsey goes on to explains the revelation that reading the Russian author Vladimir Nabakov, specifically Lolita, was for him. Additionally we discuss how horror often arises in places many would not initially recognize in film and literature such as Herman Melville's Bartleby, the Scrivener and Orson Welles' Citizen Kane.
From there we delve into the themes of urban decay, alienation, distorted perceptions, and psychologically disturbance that pervades many of his stories. During this portion of the discussion Ramsey details how his personal experiences of living in post-war Britain with his mother informed these preoccupations. We then dive into Ramsey's explorations of sex and death in his erotic horror anthology Scared Stiff, which tackled the relationship between the two taboo themes head on.
We begin to wrap up the conversation by returning to H.P. Lovecraft in the form of the Gla'aki mythos, which is Ramsey's personal contribution to the Lovecraftian universe. Then Ramsey takes some time to tell listeners about his latest work including By the Light of My Skull, Way of the Worm, Think Yourself Lucky, and Thirteen Days by Sunset Beach. Then Ramsey gives his advice to young writers and gives his take on the enduring appeal of the horror genre.
KEEP UP WITH RAMSEY CAMPBELL'S LATEST WORK AT HIS WEBSITE
Parallax Views hopes you enjoy this episode as a special treat during the holidays. Shout outs to Black Banner Magic, The Antifada, Pod Damn America, and The Horror Vanguard for being fellow soldiers in the lefty goth army. And, most importantly, have a very gothy Christmas!