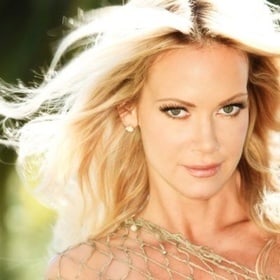 On this edition of Parallax Views, the elegantly beautiful Barbara Ann Moore joins us to talk about her life journey from being a Playboy Playmate to becoming a ballroom dancing champion, featured as a Fembot in the first Austin Powers movie, and having passionate, romantic fling with Donald Trump in the 1990s. Barbara has had a fascinating life and she tells all in the incredibly diverse conversation. We even discuss her appearance in the raunchy TV sitcom Married... with Children alongside David Faustino (Bud Bundy), a Jim Carey story from the days of his fame as Ace Ventura, Pet Detective, and her engagement to 90s action star and heartthrob Lorenzo Lamas of the hit TV The Renegade.
As Barbara demonstrates in this always engaging conversation she's much more than just a pretty face. We discuss matters related to relationships, the ins-and-outs of glamor modeling, how modeling can create a sense of alienation, and her podcast Life, Laughter, Happiness. And yes we do discus Playboy's Hugh Hefner as well as her experience of having a romantic fling with current President Donald Trump. All that and much, much more on this edition of Parallax Views.
SUPPORT PARALLAX VIEWS
ON PATREON!
FOR
BONUS CONTENT
AND
ARCHIVED EPISODES!
AND
CHECK OUT OUR SPONSOR: