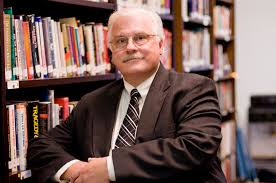 The following was initially a video interview published by the Romanian left media outlet
The Barricade
. It is an discussion with Chip Berlet, a long time researcher into the movement and machinations of the American far-right, conducted after the events on Capitol Hill on 1/6/21. It is reposted here as a bonus episode for my listeners.
Original description of the episode courtesy of The Barricade:
On January 6th, 2021 pro-Trump supporters, from QAnon conspiracy believers to the members of the militia-oriented Oathkeepers organization, stormed Capitol Hill in the belief that sitting President Donald J. Trump had a potential second term in office stolen from him vis-a-vis election fraud. J.G. Michael, host of the Parallax Views podcast, reached out to Chip Berlet, long-time researcher into the machinations of the American far right, for comment. For decades Berlet, a former analyst at Political Research Associates and at one time Vice President of the National Lawyers Guild, has honed his skills as a scholar to become an expert on the topics of right-wing populism, fascism, and the spread of conspiracy theories in society. His writings have been features in such outlets as The New York Times, CovertAction Quarterly, The Progressive, The Public Eye, Z Magazine, and The Des Moines Register. He is also the author of Trumping Democracy: From Reagan to the Alt Right and co-author, with Matthew Lyons, of "Right-Wing Populism: Too Close for Comfort".
In this video interview, conducted exclusively for The Barricade, Berlet gives his thoughts on the Capitol Hill riots, the dangers of unleashing the National Security Apparatus in the aftermath of this event, and much more.
J.G. Michael is the producer and host of Parallax Views, a program covering an eclectic variety of topics ranging from politics and pop culture to history and philosophy as well as everything in between. Previously he worked for Zero Books as the co-host of the Alternatives podcast with C. Derrick Varn. He has interviewed such well-known public figures as Noam Chomsky, Academy Award-nominated screenwriter John Sayles, Lt. Col. Lawrence Wilkerson, and many, many others.