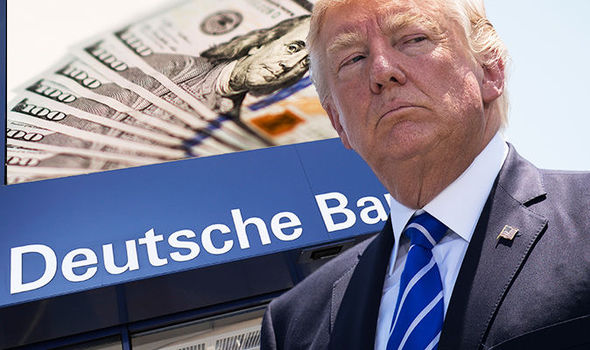 On this edition of Parallax, New York Times reporter David Enrich's new book Dark Towers: Deutsche Bank, Donald Trump and an Epic Trail of Destruction has received much press lately for casting a light on the subject of the Trump family's relationship to the scandal-prone Deutsche Bank and potentially shady financial transactions involving Russian money. Although opinions vary on the matter of the purported relationship Trump and the Russian government, even on the left, the investigative news website Forensic News has recently published two pieces on the subject of Trump, Deutsche Bank, and the Russian-based VTB Bank and Gazprombank.
Joining us to discuss these recent articles, "Trump Deutsche Bank Loans Underwritten By Russian State-Owned Bank, Whistleblower Told FBI" and "Russian Government Bank Deposited $500 Million into Deutsche Bank Subsidiary as it Lent to Trump", and to discuss Enrich's book are investigative journalist Scott Stedman and whisteblower Val Broeksmit. Val, who is in large part the subject of Ernich's Dark Towers, is the son of William Broeksmit, a high-ranking Wall Street executive who committed suicide in the aftermath of the global financial crisis. After the suicide, Val came into possession of a treasure trove of his father's emails and documents related to Deutsche Bank. He has since taken those documents to the FBI is currently collaborating with Forensic News on the Trump/Deutsche Bank/VTB Bank/Gazprombank story.
In this conversation Val gives an unfiltered background on his life, how he came into possession of his father's documents, his rocky relationship with David Enrich, and much more. Scott discusses the documents Val has shared and why he believes they are relevant as well as summarizing the Trump/Deutsche Bank/VTB Bank/Gazprombank stories and why he and Forensic News believe they are worthy of consideration. Additionally, Scott explains why he defends the credibility of Val. Regardless of your take on the issue of Trump and Russia, I hope this is fascinating conversation. I can assure you that Val is definitely never boring and Scott is a fount of knowledge.
All that and more on this edition of Parallax Views.
SUPPORT PARALLAX VIEWS
ON PATREON!
FOR
BONUS CONTENT
AND
ARCHIVED EPISODES!