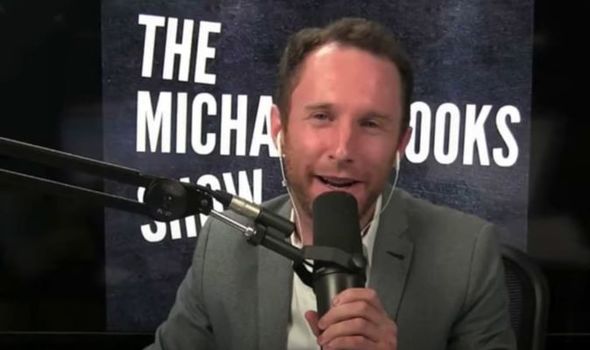 This is a repost Parallax Views Ep. 5 featuring Michael Brooks (1983-2020). The loss of Michael Brooks has hit a number of us very hard. As such I feel the need to repost this classic episode. This was recorded before I was technically proficient (which is to say that my audio comes in on one end and Michael's audio comes in on the other end; this caused problems for some listeners; but I am unable to remaster the episode).
On this edition of Parallax Views I speak with Michael Brooks of The Majority Report w/ Sam Seder and The Michael Brooks Show about leftist politics, the power of humor, and the Intellectual Dork Web... er... "Intellectual Dark Web", and his Illicit History podcast series.
We start the discussion by delving into how Michael Brooks got into leftist politics. Then we transition into how Michael's show follows in the long tradition of left-wing comedy. We talk a bit about the importance of humor in getting out a political message and building a viable social movement.
This leads into Michael's hilarious "Nation of Islam Obama" impersonations and a wider discussion of the Obama Presidency, Obama's likable personality, and having a measured left-wing critique of the Democratic Party.
From there we delve into the rise of the so-called Intellectual Dark Web, or, as I like to call it, the Intellectual Dork Web. We discuss all the usual players like Sam Harris, Charles Murray, and the lobster man himself, Jordan Peterson and following the money trail behind these characters while still debating their ideas. This opens us up for a discussion of the late great sociologist Zygmunt Bauman in contrast to Jordan Peterson.
We also take some time to discuss Michael's excellent Illicit History podcast series. This series deals with little dealt with history from perspectives that often go unconsidered. Interview subject for the series have included Dr. Christopher Ryan, author of Sex at Dawn, and Silicon Valley critic The Baffler's Corey Pein, author of Live Work Work Die: A Journey Into the Savage Heart of Silicon Valley.
We wrap up by talking about Michael's love of rap and hip hop and why in the world he isn't a fan of political rap king Immortal Technique.
All this and more on this fun, thoughtful edition of Parallax Views.