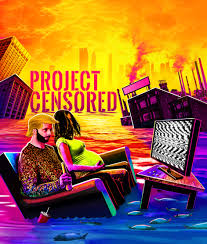 +
Parallax Views is back with another auditory double feature for your listening pleasure. First, Mickey Huff of the media watchdog group Project Censored joins us to discuss his new book, co-authored with Nolan Higdon, The United States of Distraction: Media Manipulation in Post-Truth America.  Then, comedian and activist Sam Spadino joins us to talk about how he gained notoriety as the "Man Bun Guy" Trump protester arrested after heckling the President with a Trump/Epstein photo last year.
Much has been made of Bernie Sanders' recent swipe at the Washington Post. Some have even gone so far as to call it a "Trump-like attack" on free press. Mickey Huff, director of the media watchdog organization Project Censore, however, believes there's room for a nuanced critique of corporate media outlets while also avoiding the pitfalls of Trump's crude attacks on news media. In the new book The United States of Distraction: Media Manipulation in Post-Truth Amerca, Mickey Huff and Nolan Higdon skillfully chronicle American media's journey from a Fourth Estate that kept government and corporate interests in check to it's decline in the post-Truth era. Additionally Mickey and Nolan argue that good media and journalism are necessary to a healthy functioning democracy and offer ways that our society can navigate its way of the post-truth malaise. For those unfamiliar with issues related to media criticism, Huff and Higdon's The United States of Distraction, featuring a foreword by the legendary consumer advocate Ralph Nader, is a brilliant introduction for citizens and students as well as a teaching tool for professors and activists.
THE UNITED STATES OF DISTRATION:
MEDIA MANIPULATION
IN
POST-TRUTH AMERICA
(AND WHAT WE CAN DO ABOUT IT)
BY NOLAN HIGDON AND MICKEY HUFF
AVAILABLE NOW
FROM
CITY LIGHTS BOOKS
Then, comedian and activist Sam Spadino, known in the news as the #ManBunGuy Trump protester, joins us to discuss his experiences at two separate Trump rallies last where he heckled the President over his relationship with the now deceased sex offender Jeffrey Epstein. At the second rally, Spadino managed to rile enough feathers to be arrested. His protests managed to garner a fair amount of media attention, including by Fox News, and he goes over the experience with us in this conversation. Additionally, Sam reveals how he developed his anti-authoritarian tendencies, gives his take on the power of humor and pranks when politically applied, and talks a little bit about how he became a full-time medical test subject (or, as a VICE headline put it, "a human guinea pig").
SUPPORT PARALLAX VIEWS ON PATREON!
WHERE YOU CAN HEAR...
PARALLAX VIEWS AFTER HOURS!