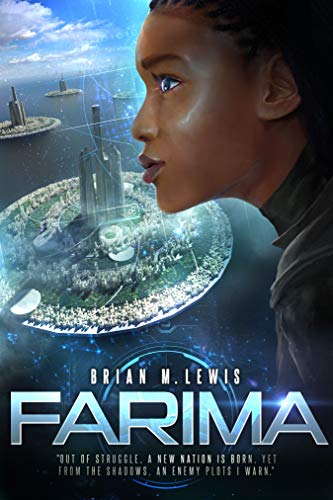 On this edition of Parallax Views, in these trying, some would say quasi-apocalyptic, times of the COVID-19 pandemic and the government jackboot coming down on citizens and activists the sci-fi genre seems like it could provide a lot of escapism. However, literary trends in sci-fi have moved towards a darker view of the future. Cynicism within literature has come to be seen as more "authentic". But what about sci-fi that envision utopias rather than dystopias? That's where author Brian M. Lewis's Farima:  An Afrofuturist Sci-Fi Adventure (The Homo Maximus Saga Book 1) comes into play. In this novel, his literary debut, Lewis provides readers with a vision of the future that, rather than drowning in pessimistic vision of post-apocalyptic dreariness, tries to imagine a world different than our own. In a words, Farima bravely bravely bucks the dystopian literary trends by imagining a better future through the lens of Afrofutursim and Solarpunk aesthetics that envisions a truly future with a truly progressive government. Brian Lewis joins us to tell us about the book, his views on technology and blockchain, Octavia Butler, the Black Panther movie, the COVID-19 pandemic, BLM and the recent Orwellian disappearing of protesters in Portland, and much, much more.
Synopsis for Farima by Brian M. Lewis:
"The Founder of a nation hides a destructive secret,
From a collective of scientists building disruptive technology,
While an enemy from the past hides in plain sight as he plots to destroy them all.
Dr. Natia Greenheart has brought together the most advanced team of scientists in all of New Manden. They've built many things, but nothing as disruptive as Homo Maximus. When complete, this breakthrough will offer effective immortality - for free.
However, a series of unfortunate attacks forces Natia and her team to travel to a private man-made island to finish the work.
Yet when they get there, Natia soon realizes that the island holds many secrets that could cost her and her team their lives. Natia will have to overcome sabotage, deception and the threat of death to not only complete the project but save a young nation from destruction."
SUPPORT PARALLAX VIEWS
ON PATREON!
FOR
BONUS CONTENT
AND
ARCHIVED EPISODES!