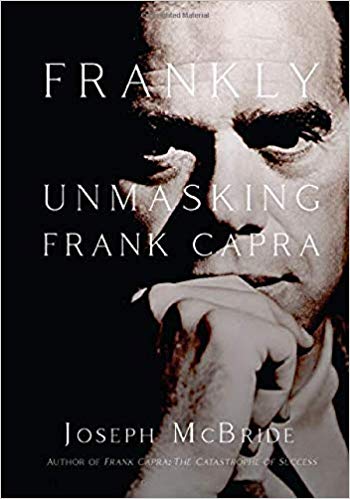 On this edition of Parallax Views, Frank Capra is generally one of the most beloved filmmaker in Hollywood history. Best known for movies like the Mr. Deeds Goes to Town, Mr. Smith Goes to Washington, and the holiday classic It's a Wonderful Life, Capra is often seen as being a forerunner to the auteur (thanks to his motto "one man, one film) and whose cinematic efforts championed the working class. Noted film historian Joseph McBride, whose storied career has included working with the legendary Orson Welles as well as writing biographies of Welles, Steven Spielberg, and John Ford, however, found that the popular image of the man was a myth in writing the biography Frank Capra: The Catastrophe of Success. For one thing, McBride found that Capra, contrary to the myth, was not as big a fan of the masses and everyday man as his films would lead many to believe. In fact, in interviewing Capra and others, as well as engaging in extensive research, he found that Capra had a certain fear for the masses, was a lifelong Republican who disliked FDR, and, despite being an immigrant himself, a xenophobe with anti-Semitic tendencies. Most damning of all perhaps was McBride's discovery of a file in Capra's archives which revealed that Capra snitched on his fellow Hollywood colleagues during the era of McCarthyism and the Red Scare.
McBride set about telling the true story of this legendary filmmaker, not to destroy his legacy but instead to reveal a complex man that considered himself an ardent patriot who felt betrayed by his country when he was accused of being a subversive. As a result of this betrayal, McBride argues, Capra lost his way and went against the very values espoused in his beloved filmography by feeding the McCarthyite menace. The story, however, did not end with the publication of Frank Capra: The Catastrophe of Success in 1992.
In his new book, Frankly: Unmasking Frank Capra, McBride relates the Kafka-esque tale of his struggle to complete and see published Frank Capra: The Catastrophe of Success. The experience found McBride, after having the project initially greenlit by his publisher, Capra's archivist, and Capra himself, being stonewalled. As such Frankly: Unmasking Frank Capra serves not only as the follow-up to Frank Capra: The Catastrophe but also as a story about the monumental struggles journalists and biographers often face in attempting to, as reporter Walter Lippman once said, "Tell the truth and shame the devil." On this edition of the program Joseph McBride himself joins us to share this fascinating story.