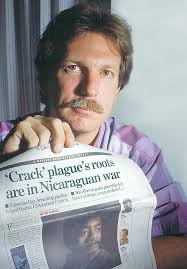 If you appreciate Parallax Views and the work of J.G. Michael please consider supporting the show through Patreon at https://www.patreon.com/parallaxviews
On this edition of Parallax Views, recently I reached out to Jefferson Morley after Ishmael Reed mentioned that he was the reason his op-ed "The Word on the Vine", which dealt with the claims of the late journalsit Gary Webb and others that the CIA played a role in the LA crack epidemic vis-à-vis the Iran/Contra Affair, was published in The Washington Post. Morley, in addition to being the author of such books as The Ghost: The Secret Life of CIA Spymaster James Jesus Angleton, Our Man in Mexico: Winston Scott and the Hidden History of the CIA, and Snow-Storm in August: Washington City, Francis Scott Key, and the Forgotten Race Riot of 1835, was a reporter and editor for The Washington Post. He now runs the Deep States blog and reports on issues related to government secrecy, transparency, and intelligence agencies like the CIA and FBI.
Morley was at the center of the storm so to speak when Gary Webb's Dark Alliance series, which connected to the CIA's involvement with the Iran/Contra scandal to the the LA crack epidemic, and the controversy it created. Many outlets, like The Post, pushed back hard on Webb. Morley lobbied for a closer examination of what Webb may have gotten right or been on the trail of getting correct rather than simply pointing out his errors.
In this conversation we begin by revisiting Gary Webb's reporting and then begin delving into other areas of interest such as how Morley began reporting on the cloak and dagger world of intelligence agencies and how they have often been unaccountable for their actions over the decades. We also discuss the origins of the term "Deep State" and how it has been transformed into a snarl word Donald Trump uses against his critics, the pros and cons of news media today and the importance of journalism to a functioning democracy, the problems of a society which deeply distrusts its media, Steven Spielberg's movie The Post, the Amazon series The Last Narc about the death of Enrique "Kiki" Camarena, classified documents related to the JFK assassination, op-eds vs. hard reporting, government secrecy and why greater transparency is needed in regards to federal agencies, Morley's lawsuit against the CIA, and much, much more.
A note that this was recorded before the January 6th, 2021 pro-Trump mob breach of the Capitol. The conversation, and some of the areas we delve into, seem particularly relevant in regards to this event. I hope you as a listener will find the conversation fascinating.