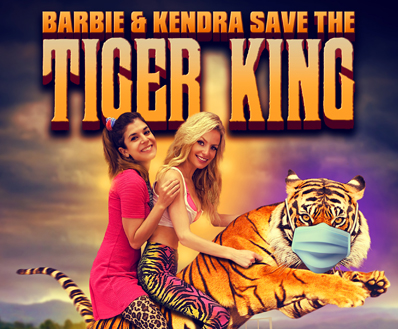 On this edition of Parallax Views, Robin Syndey has been acting since her childhood and has appeared in all kinds of media including the Nickelodeon kids TV series Drake & Josh, the long running soap opera ER, and the National Lampoon comedy Cattle Call, but she is perhaps best known for having achieved the relatively elusive status of horror movie known as the "Scream Queen". Scream Queens have been a pop culture trope since the early days of Hollywood when Fay Wray shrieked in terror as she was whisked away by the mighty King Kong (1993). From Janet Leigh in PSYCHO (1960) to her daughter Jamie Lee Curtis in John Carptner's Halloween (1978) and its sequels, the image of the Scream Queen has left a lasting impression on the popular culture landscape that carries on to this very day. Truth be told, however, the pantheon of Scream Queens is actually a somewhat exclusive club, but Robin Sydney has more than earned the moniker
Robin's status as a "Scream Queen" is no doubt in large part due to her longstanding relationship with Charles Band's Full Moon Features, an independent movie studio specializing in her horror, fantasy, and sci-fi romps. Since starring as the female lead opposite a maniacal killer cookie voiced by Gary Busey in the notorious horror/comedy romp THE GINGERDEAD MAN (2005), Robin has appeared in a number of Full Moon efforts including THE HAUNTED CASINO, SKULLHEADS, and the outrageous, 8-movies-and-counting EVIL BONG franchise to name but a few. And outside of Full Moon Features Robin has appeared in such chillers as the the psychological serial killer thriller THE LOST (2006) and the cheeky witchcraft-themed splatter-punk feature WICKED LAKE (2008).
Most recently, Robin has resumed her work with Full Moon Features by way of her participation in a new series of mashed-up/remixed movies following the exploit of social distancing duo Barbie (Cody Renee Cameron) and Kendra (Robin Sydney) as they attempt to stave off boredom during the coronavirus pandemic. The first movie, Corona Zombies, was produced and released just weeks after coronavirus made lockdowns and social distancing the New Normal across the world. Yes, that's right, Full Moon Features, under the ever creative guidance of its head honcho Charles Band, found a way to continue making movies through the pandemic. And now Full Moon has followed up Corona Zombies with the timely Barbie and Kendra Save The Tiger King.
Robin joins us to discuss these two new movies that some have jokingly referred to as "Corona-sploitation" as well as various thought and stories from career as an actress. Ever wondered what it's like to work with Hollywood eccentrics like Gary Busey or Andy Dick? Or asked yourself, "What's it like filming a nude scene? Is it uncomfortable?" Scream Queen Robin Sydney tells all in this wide-ranging and fascinating conversation. Oh, and there's even a surprise cameo from a special guest courtesy of Robin a bit later on in the conversation. All that and much more on this edition of Parallax Views.
Note: Lengthy intro for the horror newbies. Interview starts at 10:44.
VIDEO VERSION OF THIS EDITION OF PARALLAX VIEWS AVAILABLE FREE OF CHARGE AT:
https://www.youtube.com/watch?v=24uUIfwywjo
WATCH
BARBIE AND KENDRA
SAVE
TIGER KING
ONLY
AVAILABLE
ON
FULL MOON FEATURES
SUPPORT PARALLAX VIEWS
ON PATREON!
FOR
BONUS CONTENT
AND
ARCHIVED EPISODES!
AND
CHECK OUT OUR SPONSOR: