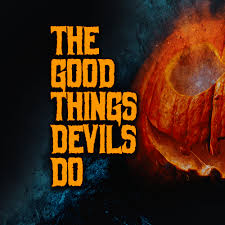 Parallax Views initiates the #HalloweenPodcastMassacre, a series of episodes devoted to celebrating the Halloween season, by highlighting the brand new horror movie The Good Things Devils Do, a wild ride of gory vampire hijinks set appropriately on All Hallows' Eve, with the film's director Jess Norvisgaard and director of photography James Suttles. Boasting a a cast headlined by a trio of horror icons in the form of the Emmy Award and Lon Chaney Award-winning Bill Oberst Jr., scream queen Linnea Quigley, and the Friday the 13th franchise's Kane Hodder (aka the man behind the hockey mask of the machete wielding maniac Jason Voorhees!), follows in the footsteps of such fright flicks set on or around October 31st as James Roday's Gravy (2015), Patrick Lussier's Trick (2019), the anthology of terror Tales of Halloween (2015), and Michael Doughtery's Trick 'r Treat (2007) in vying to become a cult classic regarded as annual viewing for the spooky season. Taking its cues from such ghoulishly gory fear features as Kevin S. Tenney's Night of the Demons (1988), David DeCoteau's Witchhouse, and Dan O'Bannon's The Return of the Living Dead (1985), The Good Things Devils Do offers up a mix of wicked dark humor and dark humor. At the same time, however, Norvisgaard's first feature length effort may offer a bit more than just blood-soaked gore and B-movie camp thanks to some truly emotion-stirring moments that conjure chills, thrills, and maybe even a sincere tear or two.
Provided below is a trailer for The Good Things Devils Do and a plot synopsis by the director himself, Jess Norvisgaard:
Richard, a small-time gangster is retiring. Before he can, he must take one last job: to steal money from a rival gangster's house. Miles apart, Melvin is a reluctant family man who has dreams of becoming a famous curator for his Museum of the Macabre. His newest acquisition? The remains of the notorious Masquerade, a vampire born from the embers of hell, slain centuries ago. On Halloween Night, their paths will collide and they'll be forced to work together to fight centuries-old evil with everything on the line.
This Episode Brought to You By:


The War State:
The Cold War Origins of the Military-Industrial Complex and the Power Elite, 1945-1963
by
Michael Swanson
of
The Wall Street Window