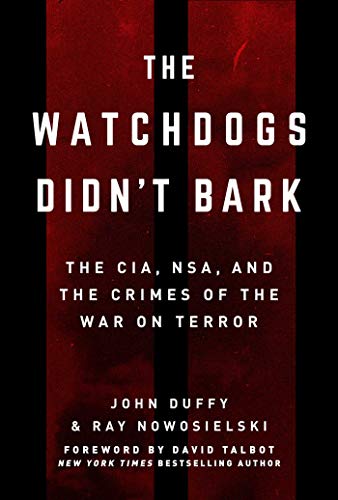 On the 18th anniversary of 9/11, Parallax Views would like to present listeners with this previously unpublished conversation with Ray Nowosielski and John Duffy, authors of The Watchdogs Didn't Bark: The CIA, NSA, and the Crimes of the War on Terror. Despite the cliché that "9/11 changed everything", few have proven willing to dive into the deep history of September 11th and ask the $1 million dollar question: how did this event, that constitutes not only America's worst terrorist attack but also it's greatest intelligence failure, happen? For over ten years, Nowosielski and Duffy thought to answer this question. This led them eventually being granted an interview with Richard A. Clarke, the counterrorism advisor to both President Clinton & President. What Clarke alleged to them was that the CIA, under the directorship of George Tenet, was guilty of "malfeasance and misfeasance" in the lead-up to the September 11th attack. Watchdogs Didn't Bark tells the chilling story of events which culminated in the September 11th terrosist attacks including tensions between the FBI and CIA, the CIA's Alec Station or Bin Laden Unit, and key 9/11 hijackers Khalid al-Mihdhar and Nawaf al-Hazmi. In this conversation you will hear about Bin Laden's arch-nemesis John O'Neill (who died in the WTC on that fateful September day shortly after leaving the FBI), the saga of the Alec Station's Michael Scheuer and "The Unidentified Queen of Torture" Alfreda Bikowsky, and the war on whistleblowers that was kickstarted by the War on Terror. And, by the end of it, you, dear listener, will understand that the watchdogs didn't bark.
PLEASE READ
THE WATCHDOGS DIDN'T BARK:
THE CIA,
NSA,
AND
THE CRIMES OF THE WAR ON TERROR
SUPPORT PARALLAX VIEWS ON PATREON!
WHERE YOU CAN HEAR...
PARALLAX VIEWS AFTER HOURS!
-
THE LATEST FROM
PARALLAX VIEWS AFTER HOURS:
Matthew Alford
on
What the Mainstream Media Won't Tell You About Western Foreign Policy